Mom had just put her toddler to sleep. Suddenly, a banging on the door warned her of this horror
|
When new parents prep their home for a new baby, they often stock up on plenty of safety items like drawer and cupboard locks, socket protectors and child proof door handles. Even the most safety aware parent often overlooks a huge danger: windows. Window locks are not usually high on the list of baby gift items, but they should be.
The National Safety Council reports that more than 3,000 kids are seriously injured in falls from windows each year and about eight children under the age of five, die from falls. Fortunately, most of these falls are preventable.
Amber Boone of Boise, Idaho learned the hard way, how easy it easy for little ones to fall. On May 27, Boone laid her 3-year-old daughter, Aubrey, down for a nap. She went downstairs to do some work in the house. A few minutes later she heard loud banging on her front door,
KTVB
reports
#SafetyTip Window stops are a cost effective way to limit windows to the recommended 4inch opening #windowsafety pic.twitter.com/f0wLQsHLTp

— DK&LFoundation (@DKLFoundation) May 1, 2016
Her neighbor saw her daughter fall from their second story window. Aubrey had fallen out of her bedroom window onto the driveway. Aubrey was taken to the hospital where she was treated for a fractured skull, lacerated spleen, and swollen bowel.
While she has mostly recovered, the fracture to her skull will take up to six months to completely heal. "Everything has healed other than the skull, that's going to take time," Boone told KTVB.
Every year more than 2,000 children die from an injury that happens at home and 3.5 million are taken to the emergency room for injuries, according to Safe Kids.
To keep children safe, install window guards. You can purchase guards and locks for all types of windows. Alternatively, you could install tools that allow the window to open partially, but not enough for a child to fall out, according to the NSC.  Parents can also keep dressers, couches and other furniture away from windows to keep very small children from climbing.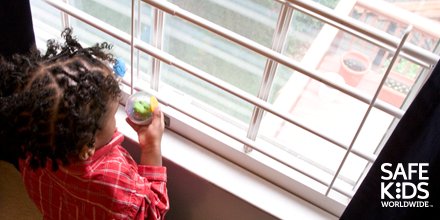 With warmer weather encouraging open windows and fresh air, take a few minutes to make sure your home and your kids are safe this summer.
90% of people who completed this program lost over 12LBS in a week. Try it HERE or click the image above